Cybex SA, located in the center of Athens, Greece, specializes in Internet Services in the fields of web-site development, web - site hosting as well as IP cameras and weather stations commerce, installation and operation.
The projects extensively use, RDBMS technology, raw data acquisition and are integrated with pre-existent Information Systems.

Some advantages to our clients are that: We use the newest electronic commerce applications. Our graphic artists take pride in creating dynamic and attractive web sites. We offer advanced web related services like emailSMS, windSMS and PANAFON SnowCam
Since its foundation in February 1997, the company has been, and will continue to be committed in fulfilling our clients demands and goals in the best possible way.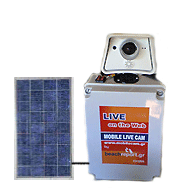 We can install weather stations or web cameras virtually anywhere (on top of mountains or beaches) without the need of electricity or standard phone lines. See our latest our latest project regarding Meteocam here. Contact us for more info.

Εγκαθιστούμε μετεωρολογικούς ή web κάμερες οπουδήποτε ( σε κορυφές βουνών ή παραλίες ) χωρίς την ανάγκη χρήσης ηλ. ρευμάτος ή σταθερές τηλεφωνικές γραμμές. Επικοινωνήστε μαζί μας για περισσότερες πληροφορίες.
H Cybex είναι εγκεκριμένη από την Ε.Ε.Τ.Τ (Εθνική Επιτροπή Τηλεπικοινωνιών και Ταχυδρομείων) ωs επίσημος καταχωρητής ονομάτων χώρου με κατάληξη .gr και αναλαμβάνει να καταχωρήσει το δικό σας domain name οικονομικά και με ασφάλεια.

CYBEX DOMAIN REGISTRATION - Πληροφορίες και τιμοκατάλογος .gr domain